Many say that the management of land is really the management of water. All living creatures cannot survive without it; however, it can be destructive and difficult to control at times. As fifth generation Mississippi land owners, our family has seen first-hand an incredible amount of change in management practices over the years. It is fascinating to see how these procedures have evolved over time, and to see the effects of new technologies that have emerged along the way. Of all the details that have changed in land management, moist soil management is still largely important and the most difficult aspect of land management.
We learned a lot about water management on our farm in Sunflower County, Mississippi. Despite having been in our family since before the Great Depression, when our generation took over the management of it, the land was in most ways unimproved, both in terms of farming and wildlife habitat. We set out to change that in a big way and ten years later this same farm is considered one of the most technologically advanced and environmentally sustainable farms in the Mississippi Delta region. A huge bonus has been how the parcel attracts wildlife and the incredible hunting it provides, especially for waterfowl.
During those years of land and technology improvements, we kept getting stuck on the same problem – an outdated technology that many other water management improvements still depended on – an old flashboard riser system. Developed hundreds of years ago, flashboard risers were still the go-to product for duck hunters and farmers worldwide. We had a hard time believing that the immense amount of improvements to our land would ultimately depend on a cheaply fabricated, half piece of pipe with wood boards stacked into it!
We began looking into the reasons for using flashboard risers at the critical water control points and we found that the theory behind them was actually pretty good. They were meant to control water depth, allow topsoil and contaminants to settle to the bottom, and then drain water from the surface. To drain the water though, the operator had to wade out and remove one board at a time every few hours from each structure. Therein lies the problem with flashboard risers; they are notoriously difficult to operate and a bother to deal with that they have routinely failed to deliver the intended benefits. The impacts of this antiquated system can be severe.
Moist soil management is one of the best tools in a manager's playbook. The simple practice of catching water and then releasing it at a certain rate can result in highly desirable wetland habitat for waterfowl and other wildlife, but the outdated technology we have depended on until now has made it so almost no one is getting it right. That means wasted money, less productive habitat and a lot of fun hunts that won't happen next year.
As land managers and avid sportsmen, we were already very familiar with these problems. So we asked the question, "What if we could press a button on our phone and perform a perfect moist soil draw-down?" This question drove us to build the "Autoriser."
Over the past several years "Autoflow" has worked to combine automation, remote cameras and sensors to create a new way of managing water. We knew it was possible and we knew it would be better, both in terms of reducing the need for hands-on management and improving the productivity of the land being managed. What started out as an attempt to solve our own problems on our land has become something much bigger.
The Autoriser is the world's first automated, smartphone controlled riser unit. Having used Autorisers for a while on our own property, we realized we couldn't be the only ones who needed this solution. Mossy Oak agreed, and our new partnership with them is intended to help put these tools into the hands of gamekeepers across the country.
The Autoriser serves as a full-time, in-field data hub which uploads live data and photos to its private app 24 hours a day. We believe it has all the tools necessary to take the hassle and cost of labor out of the equation for land managers and enables them to create more productive wetland habitat. This fully automated water control device comes equipped with a water level sensor, gate position sensor, battery, solar panel and infrared camera. Each unit is linked to its own private internet control page which can be accessed via smartphone or computer. Detailed live data and photos will keep you up to date on the status of each unit and it is controlled by the push of a button.
The Autoriser comes in two standard heights; 30 and 42 inches. For those who need to set a custom maximum water level, we offer 4 and 12 inch spacers which bolt on the top of any standard unit. For customers who started out with the EasyRiser (our model controlled by a hand winch), upgrading to the Autoriser is simple. With the bucket already installed on your pipe all you need to do is bolt on the automation kit and turn it on!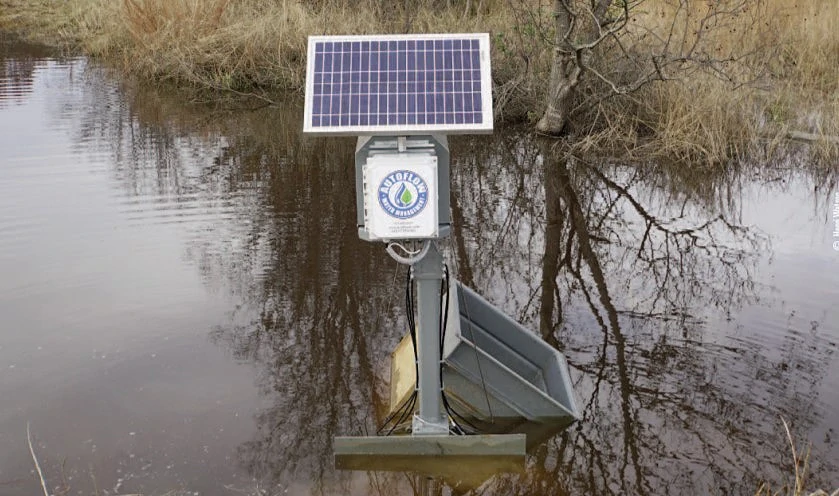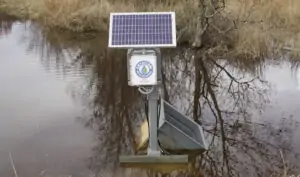 For the first time, now land managers can plan, pre-program and monitor their water and wildlife from any smartphone or computer. It is also now possible for professionals such as foresters and biologists to remotely assist them by logging in and getting involved. There are countless ways the Autoriser can fundamentally change the way we manage water, but in short, our goal is this: more food, less work.
Autoflow is helping solve the water management problem by making it as simple as possible. Even our manually operated unit, "The EasyRiser" is a great step forward from the old technology. With the support of Natural Resource Conservation Services (NRCS) and others, we are seeing our technology installed at duck camps, farms, construction sites and wetland management areas. It is the culmination of a lot of hard work that has followed one brief eureka moment!
We take pride in saying that our patented technology is built 100% in the United States, and we are excited to begin our cooperation with another Mississippi company, Mossy Oak, to help change the way wetlands are managed.
The applications for these units are not limited to wildlife management, but also extend into agriculture and construction. NRCS financial assistance may be available in your area (call 601.853.1021 to learn more or for more information visit autoflowllc.com, or contact the guys at Gamekeepers)
Environmental stewardship is something we like to believe all land managers share a passion for. It was one of our biggest motivations in developing the Autoriser and our other products. Mossy Oak and Gamekeepers share our vision for stewardship and land management, and we all believe that by putting better tools into the hands of land managers, the wildlife and environments we love will thrive.
Join our weekly newsletter or subscribe to GameKeepers Magazine.
Your source for information, equipment, know-how, deals and discounts to help you get the most from every hard-earned moment in the field.